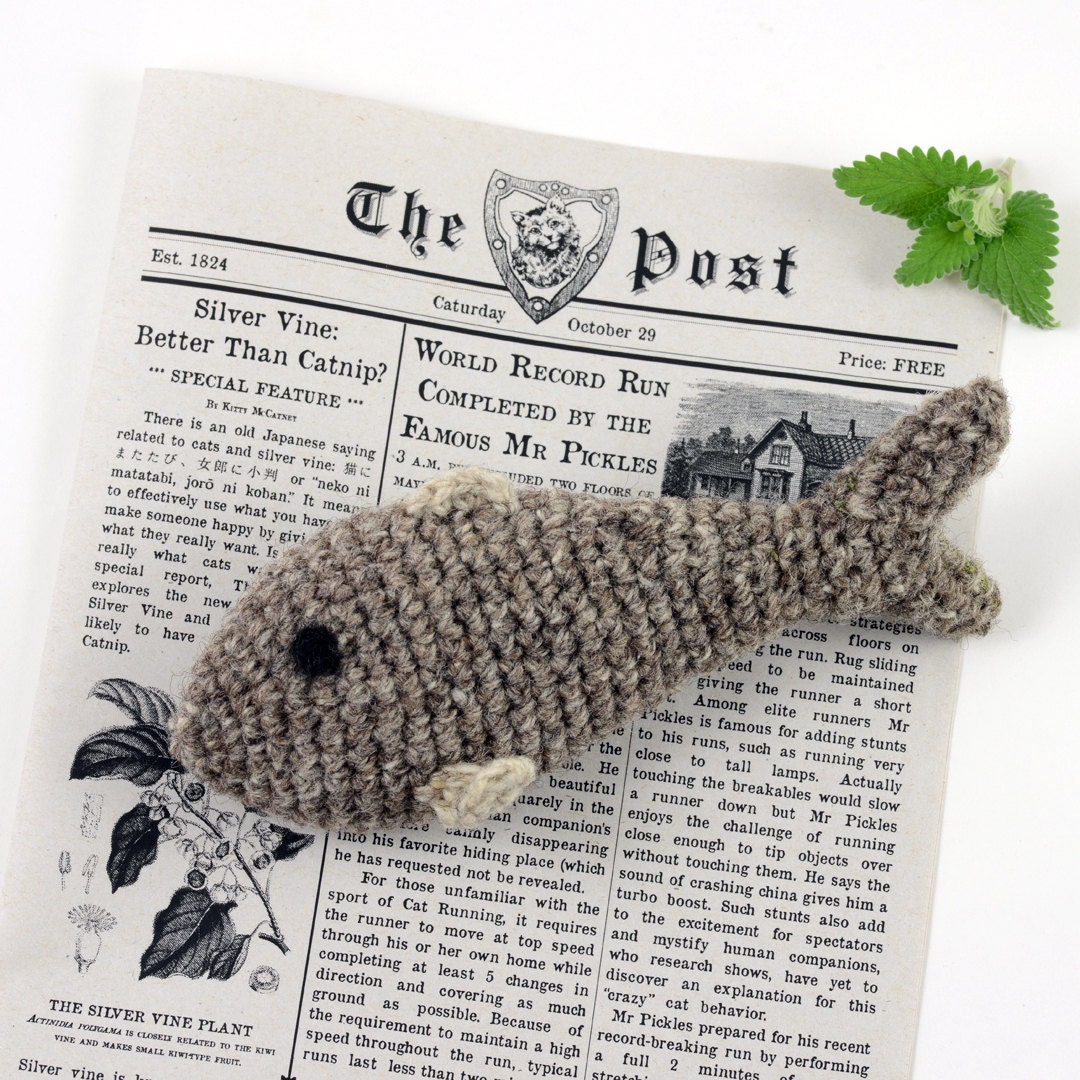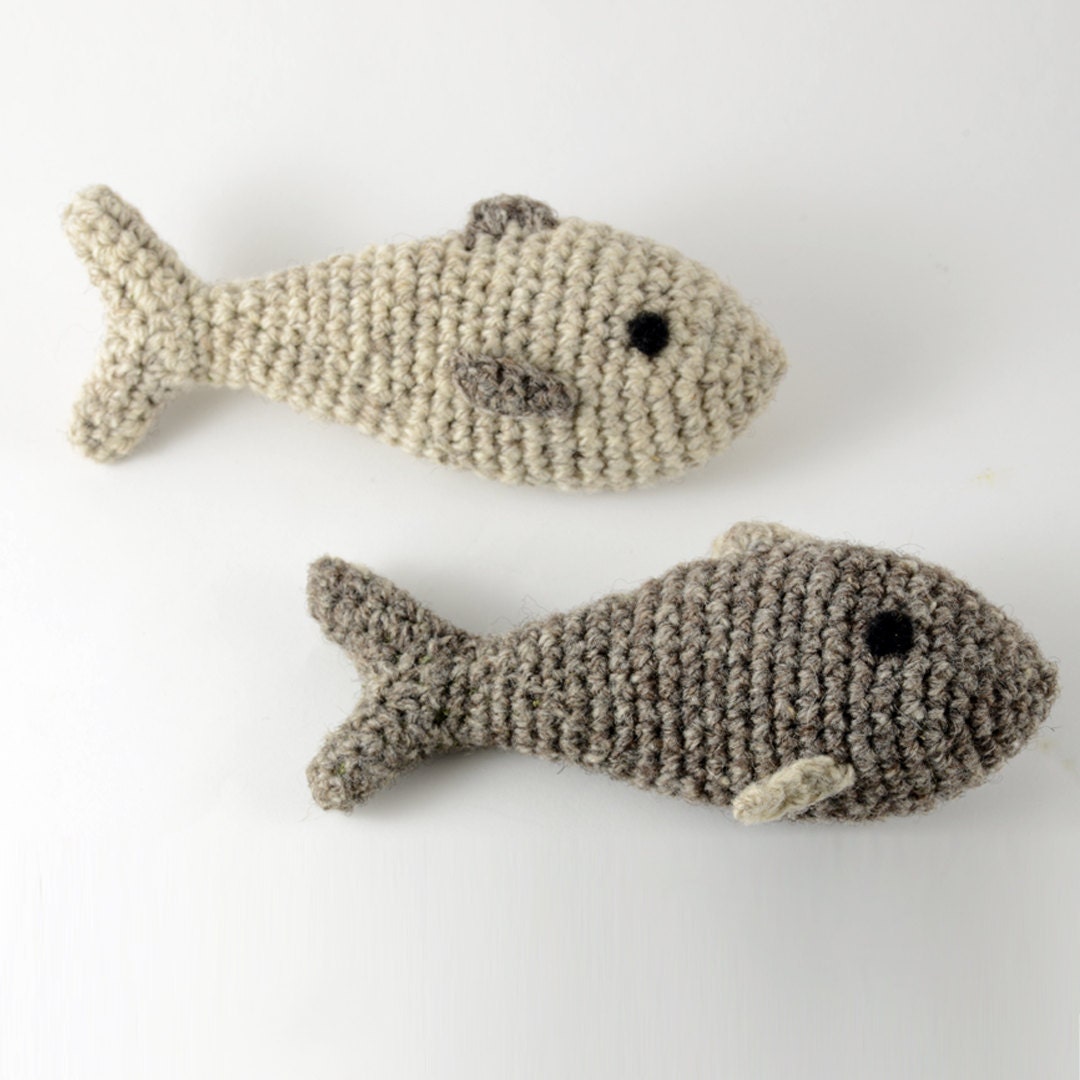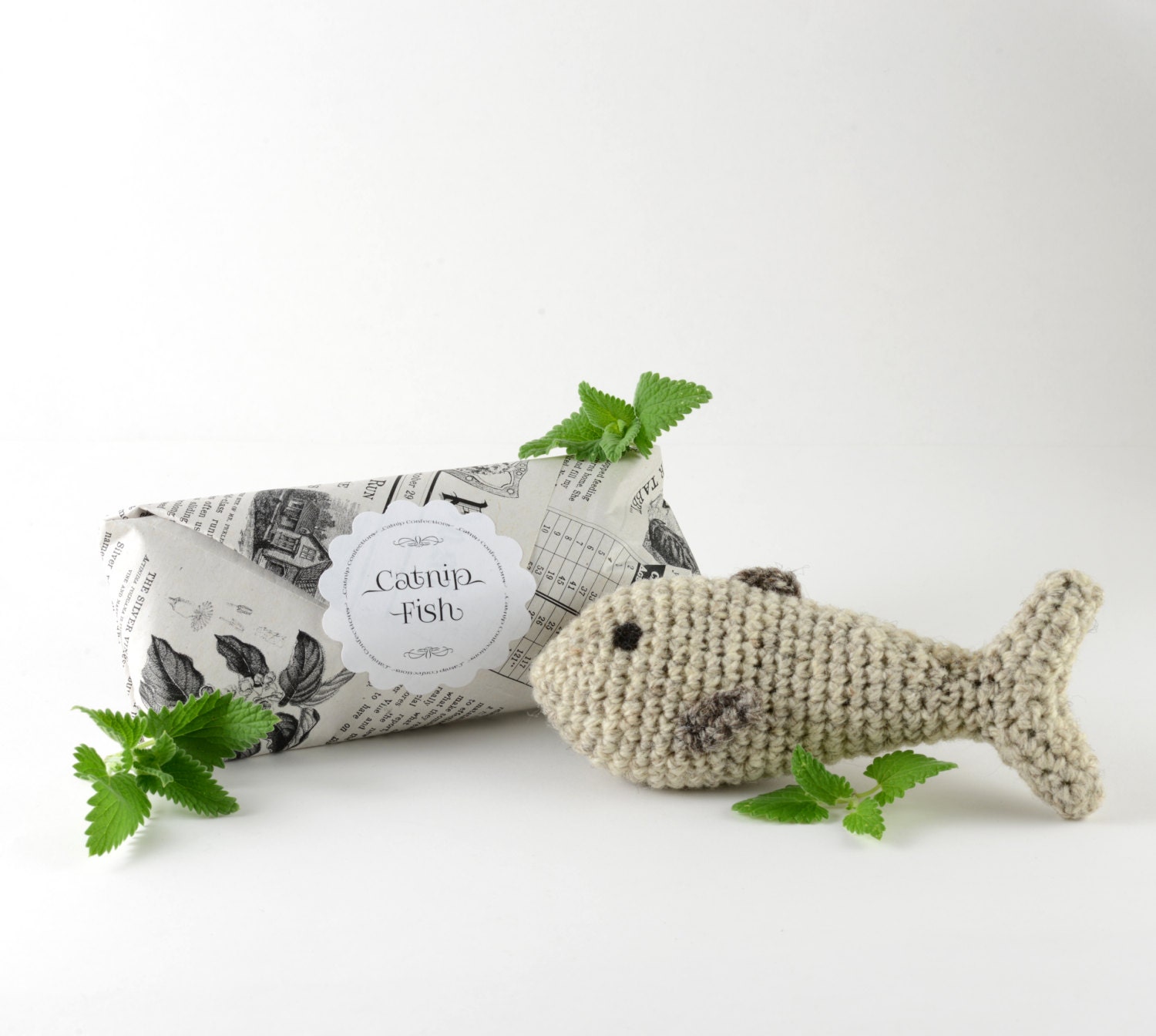 Holy Mackerel!
These freshly stuffed fish are filled with organic cotton and your choice of cat-attractive herbs before being wrapped in cat newspaper. Catch them if you can!

Each fish is approximately 4.5 inches long, 2 inches tall and 1 inch thick, which is the perfect size for cats to roll on, hug or kick. They are hand crocheted with eco-friendly wool yarn that is not chemically treated, bleached or dyed (the heathery grey colors are created by combining wool from light and dark sheep). All fish fins are securely stitched to withstand cat attacks and the eyes are made from naturally black alpaca wool that is felted into the fish.

CatnipConfections fish are stuffed just before shipping to maximize their cat-attracting power. Even the tail is fully stuffed so your cat can gnaw on it.

Choose your fish filling from the options below:

Catnip Leaves and Flowers with Organic Cotton Fluff
-For Traditional Catnip-Loving Cats
-CatnipConfections powerful catnip contains freshly dried whole catnip leaves and flowers

Catnip Leaves and Valerian Root Pieces with Organic Cotton Fluff
-For a More Pungent Experience
-Valerian has a strong odor that many cats love

Valerian Root Pieces with Organic Cotton OR Alpaca Fluff
-For an Exciting Experience without Catnip
-Valerian root is so powerful on its own that an entire fish-full would blow kitty's mind (or at least his nose). Here the Valerian root is tempered with your choice of organic cotton stuffing or alpaca fluff instead of catnip. Some cats are fascinated by the scent of alpaca fleece, too!

Honeysuckle Wood Shavings with Organic Cotton Fluff
-For Feline Fans of Honeysuckle Wood
-Honeysuckle Wood contains actinidine, which has a catnip-like effect on some cats

Silvervine Leaves with Organic Cotton Fluff
-For Discerning Cats Who Prefer Mild Fish
-Silver Vine (also known as Matatabi or Japanese Catnip) contains two cat-attracting compounds not found in regular catnip

Magic Mix with Organic Cotton Fluff
-For Cats Who Want It All
-Magic Mix is a special combination of cat-attractive herbs that is also used to fill Catnip Confections' Magic Mushrooms. It consists of Catnip and Silvervine leaves, plus Honeysuckle wood shavings and Valerian root pieces for a unique scent experience

Choose your cat's favorite fish color, either light grey or dark grey, to complement any of the fillings.

For freshness, every fish will arrive wrapped in a page from the October 29th issue of The Cat Post newspaper (Why October 29th? It's National Cat Day!) The Cat Post is printed on 100% recycled newsprint paper. The inside of the paper is blank to better preserve the fish, but the outside includes a crossword puzzle and features such as "Dear Tabby" for your cat's reading pleasure.
Payments
Payment can be made online by credit card, debit card, Etsy gift card or PayPal, or through the Etsy mobile app with Apple Pay or Android Pay. For help with making your payment, please visit the Etsy help guide at http://www.etsy.com/help/article/339

Etsy automatically collects and remits sales tax in states where it is required.
Shipping from United States
Items are made to order to ensure that they are as fresh as possible. Due to increased order volume, orders are currently shipping out within 5-7 days of order placement. Large orders may take longer. If you have specific time requirements for receiving your order, please be sure to let me know!

Standard shipping is via USPS 1st Class Mail. USPS Priority Mail shipping is used for orders weighing more than 1 lb. High value orders ($200+) will be sent with Signature Confirmation. If your cat is really impatient, expedited delivery by Express Mail is also available by request. Please contact me for a quote.

----------------------------------------------------------------------------------------
*** Note for Customers in Canada and the UK ***

Due to long transit times and the possibility of delivery delays, i do not regularly ship to Canada and the United Kingdom. I apologize for any inconvenience this may cause.

Please feel free to contact me if you would like to place a special order with international shipping.
Returns & Exchanges
I gladly accept returns, exchanges, and cancellations
Just contact me within: 14 days of delivery
Ship items back to me within: 30 days of delivery
Custom or personalized orders
Questions about your order?
Please contact me if you have any problems with your order.
Returns and exchange details
Please let me know if you are not happy with your order and I will do my best to correct any problems!

Customized items cannot be returned unless there was an error in customization. Please note that shipping charges are not refundable.
Additional
CatnipConfections are made to be played with by cats, but they are not indestructible. Always examine your cat's toys and replace any that show signs of wear. Do not leave your cat unattended with toys, especially when he or she is under the influence of catnip!

I am happy to customize any confection for you. If you prefer, items can be stuffed with organic cotton or alpaca fluff instead of catnip, honeysuckle, silvervine or valerian.
Privacy
Although cats think nothing of bathing in public, many humans are very concerned about privacy. Please rest assured that I do not sell your information or use it for marketing purposes. I use your personal information only for filling your order and shipping it to your address, answering your questions, or to comply with legal requirements.

This general promise unfortunately does not cover all the specific points required to be disclosed by law, so the following is my detailed Privacy Policy:

This Privacy Policy describes how and when I collect, use, and share information when you purchase an item from me, contact me, or otherwise use my services through Etsy.com or its related sites and services, including CatnipConfections.com (which is hosted on Pattern by Etsy).

This Privacy Policy does not apply to the practices of third parties that I do not own or control, including Etsy or any third party services you access through Etsy. You can reference the Etsy Privacy Policy to learn more about its privacy practices at http://www.etsy.com/legal/privacy

* Information I Collect *

To fulfill your order, you must provide me with certain information (which you authorized Etsy to provide to me), such as your name, email address, postal address and the details of the product(s) that you are ordering. You may also choose to provide me with additional personal information (if needed for a custom order, for example), if you contact me directly.

* Why I Need Your Information and How I Use It *

I rely on a number of legal bases to collect, use, and share your information, including:

- as needed to provide my services, such as when I use your information to fulfill your order, to settle disputes, or to provide customer support;
- when you have provided your affirmative consent (which you may revoke at any time), such as asking to be notified about something, or by signing up for my mailing list (although as of 2018, I do not have a mailing list);
- if necessary to comply with a legal obligation or court order or in connection with a legal claim, such as retaining information about your purchases if required by tax law; and as necessary for the purpose of my legitimate interests, if those legitimate interests are not overridden by your rights or interests, such as 1) providing and improving my services. I use your information to provide the services you requested and in my legitimate interest to improve my services; and 2) Compliance with the Etsy Seller Policy and Terms of Use. I use your information as necessary to comply with my obligations under the Etsy Seller Policy and Terms of Use.

* Information Sharing and Disclosure *

Information about my customers is important to my business. I share your personal information for very limited reasons and in limited circumstances, as follows:

- with Etsy. I share information with Etsy as necessary to provide you my services and to comply with my obligations under both the Etsy Seller Policy and Etsy Terms of Use.
- with Service Providers. I engage certain trusted third parties, such as delivery companies, to perform functions and provide services to my shop. I will share your personal information with these third parties, but only to the extent necessary to perform these services (for example, to deliver your order to your address)
- in Compliance with laws. I may collect, use, retain, and share your information if I have a good faith belief that it is reasonably necessary to: (a) respond to legal process or to government requests; (b) enforce my agreements, terms and policies; (c) prevent, investigate, and address fraud and other illegal activity, security, or technical issues; or (d) protect the rights, property, and safety of my customers, or others.

* Data Retention *

I retain your personal information only for as long as necessary to provide you with my services and as described in my Privacy Policy. However, I may also be required to retain this information to comply with legal and regulatory obligations, to resolve disputes, and to enforce agreements.

* International Customers *

If you access this site from countries outside the United States, please note that your personal information will be transferred to the United States, where I am located. By entering your personal information, you consent to having it transmitted to and processed in the United States.

* Your Privacy Rights *

You may have the right to receive a copy of the personal information I hold about you. You may also have rights to change, restrict my use of, or delete your personal information. Outside of exceptional circumstances (like where I am required to store data for legal reasons) I will generally change or delete your personal information upon request.

* Privacy Policy Updates *

I may from time to time revise this Privacy Policy. If I do, I will post the changes on this page and indicate the new Privacy Policy's effective date so that you are always aware of what information I collect and how I use it. Unless I receive your express consent, I will only use and disclose your information in a manner consistent with the version of the Privacy Policy that was in effect at the time I collected the information.

I welcome your questions and comments about privacy. Feel free to contact me using the Contact link found either at the top or bottom of any page.

Privacy Policy Effective Date: May 25, 2018
Was a success right away with our cat. Great workmanship, cute packaging.
Adorable packaging, my cat loves her fish and not only plays with it but uses it as a little pillow
Very cute, high quality toy!