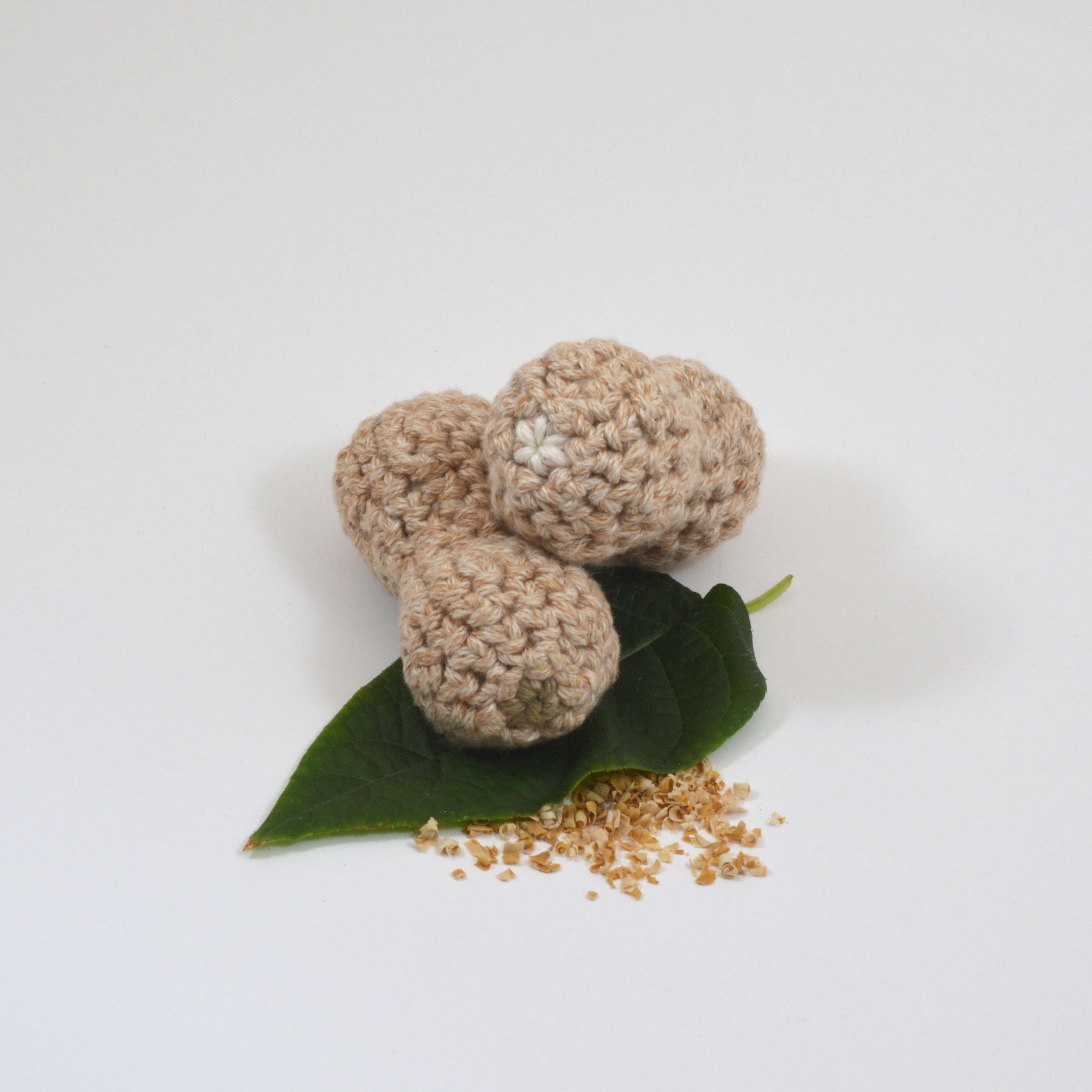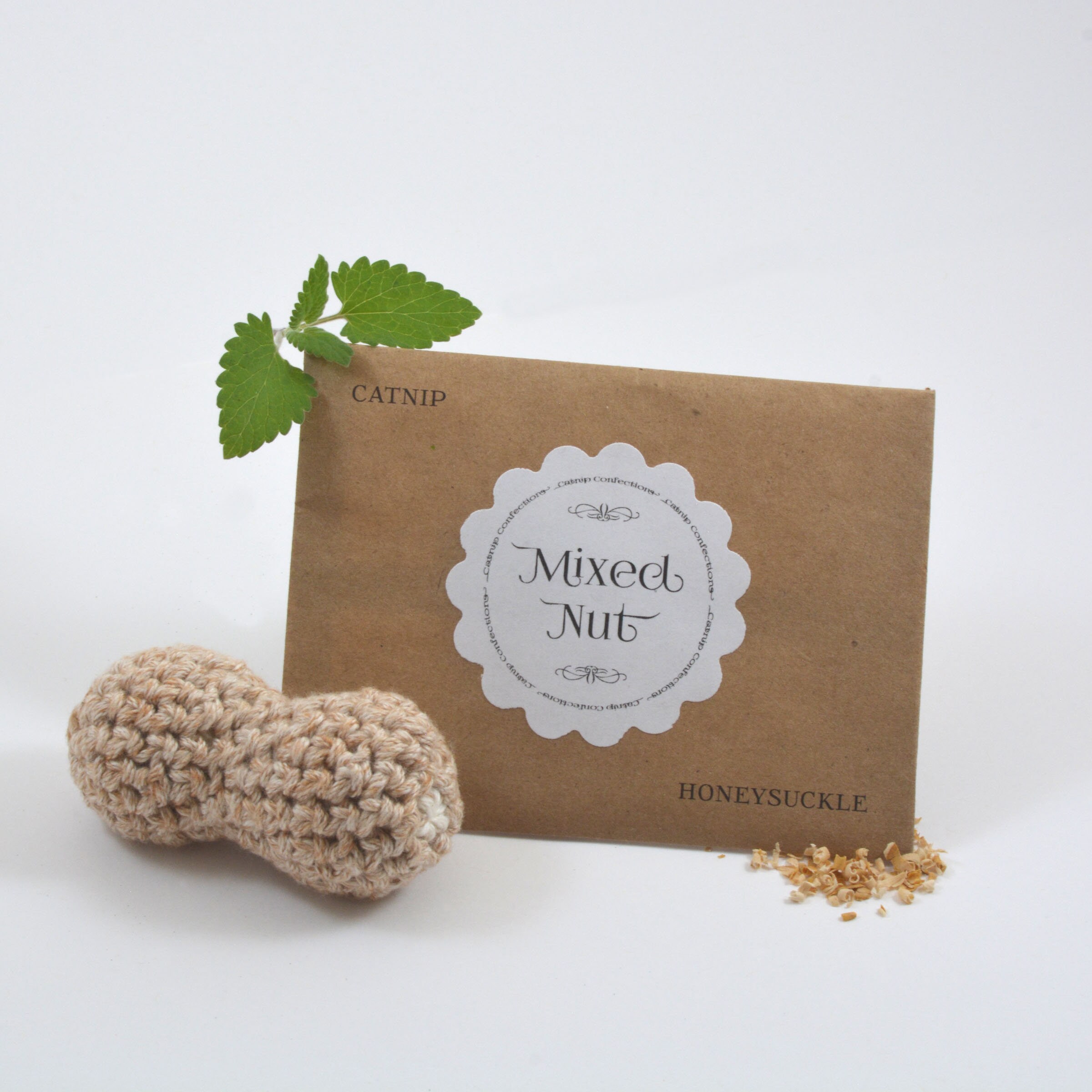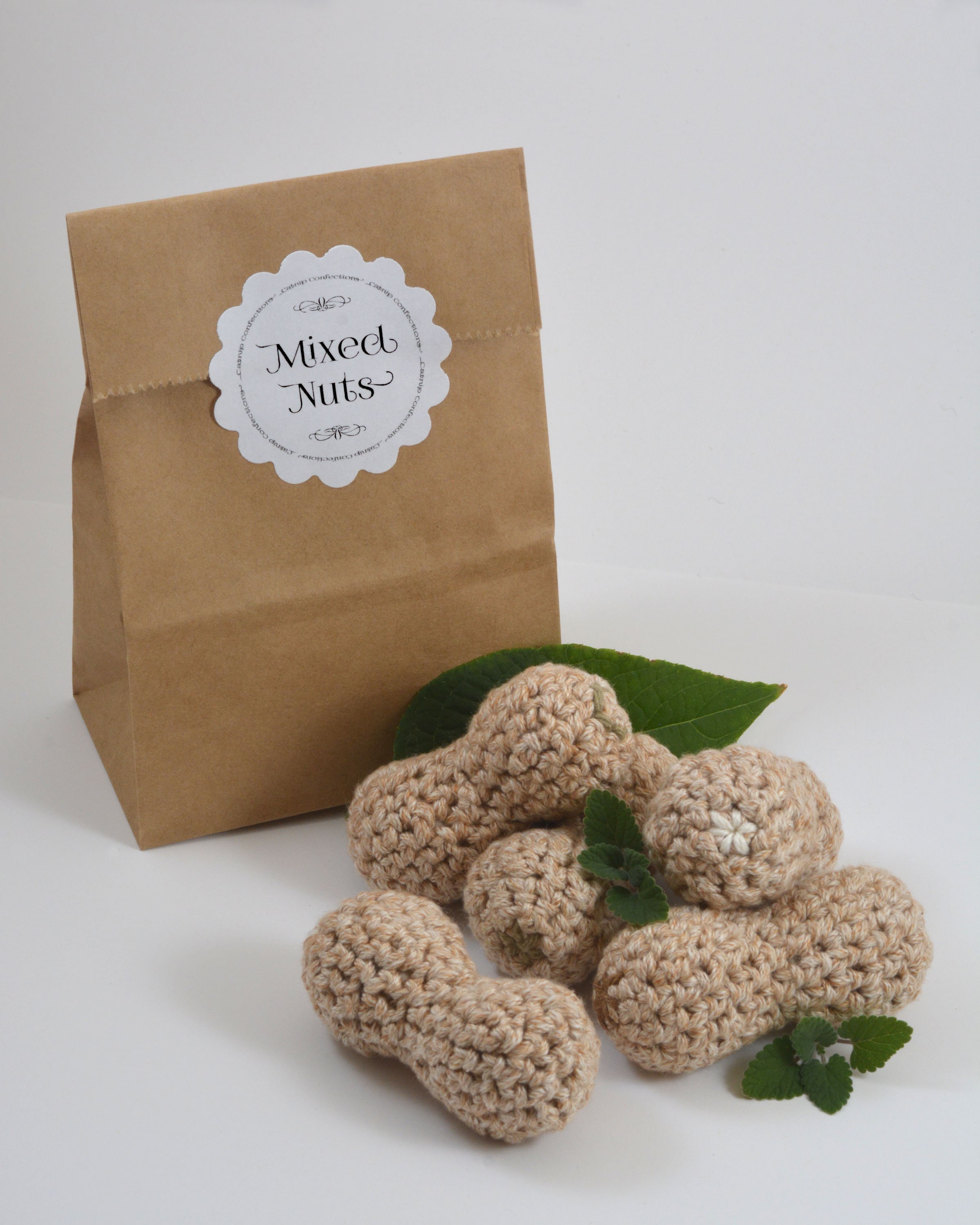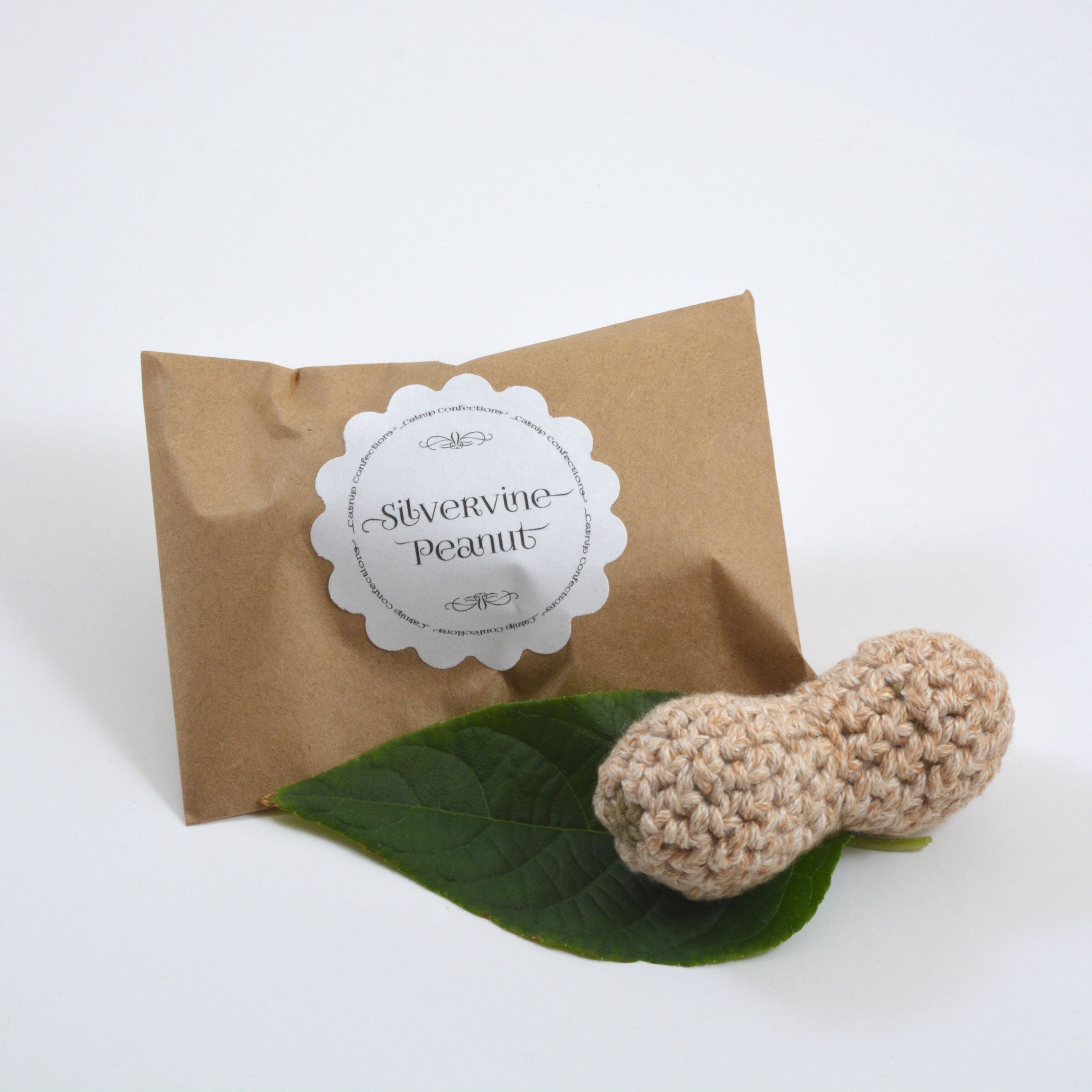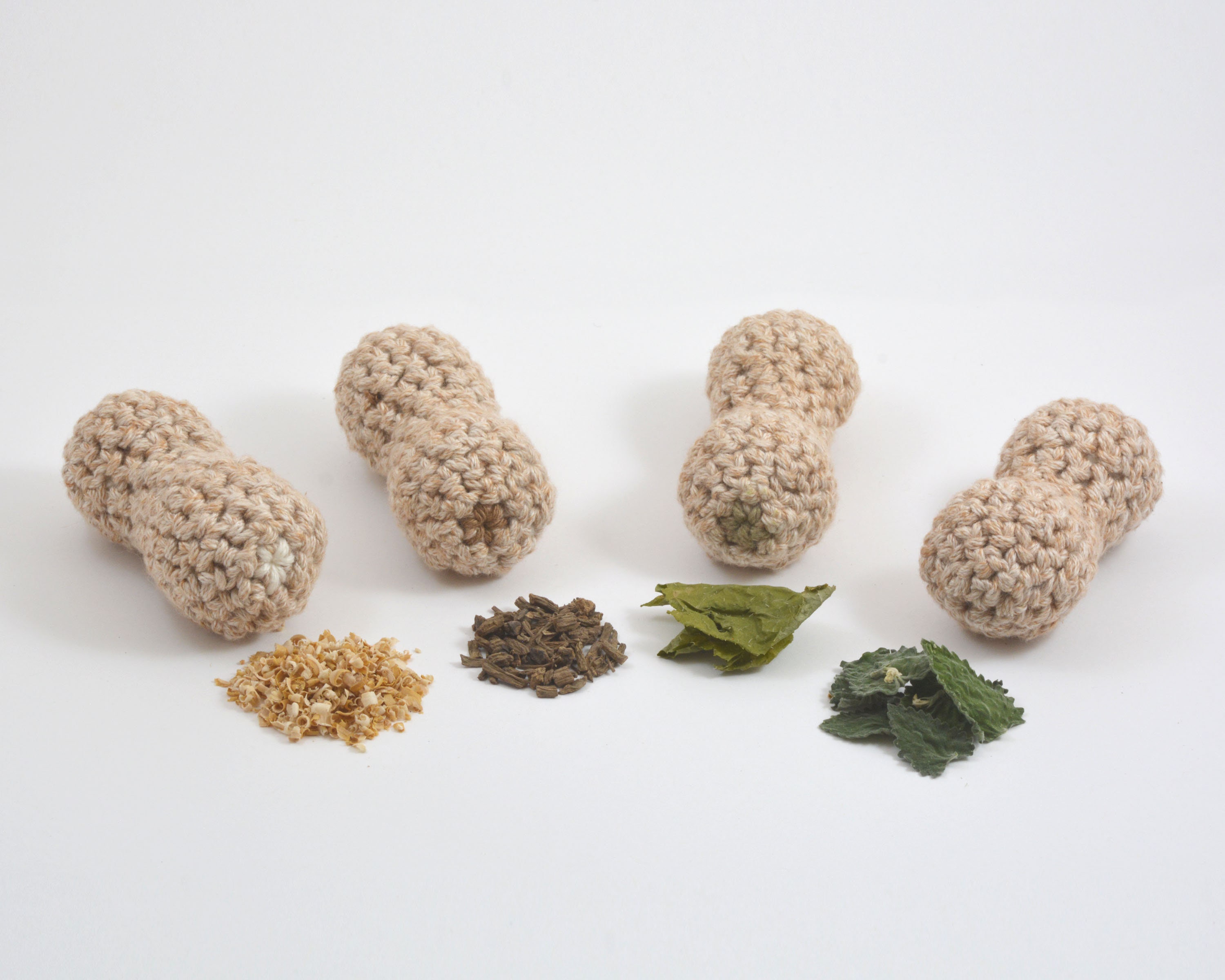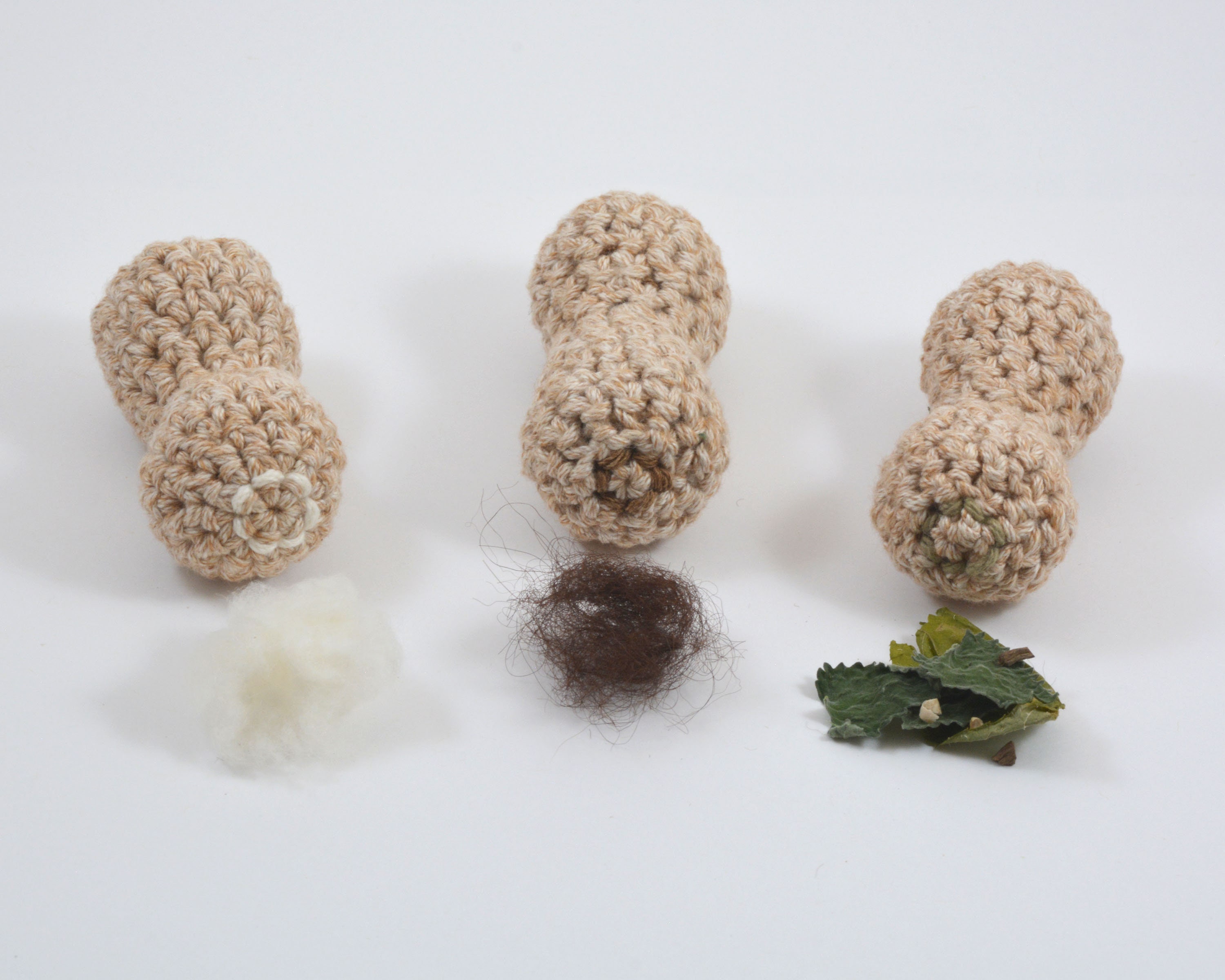 Does your cat ever behave like a crazy, mixed up nut? Catnip Confections Mixed Nuts are the purr-fect gift to recognize that nutty quality in your cat!

Every crocheted Mixed Nut cat toy comes packed with your (or your cat's) choice of cat-attractive herbs or other filling. Just like the ever popular Catnip Confections Catnip Peanuts, cats simply love to bat around, chase and carry these nuts!

To make a your custom Mixed Nut, just select any two of the listed cat-attractive herbs, unscented Organic Cotton or Alpaca fluff . Your nut will be stuffed with an approximately equal amount of each filling (except for Valerian, which is used more sparingly due to the power of its scent).

Choosing the same option for both scents is perfectly acceptable (for example, choosing Silvervine for both fillings creates a Silvervine Peanut). The only exception is Valerian, which must be mixed with something else to prevent overpowering your cat's nose.

Every Mixed Nut Peanut is marked on the ends with stitches of colored yarn to make identification easier for humans.


============================
Mixed Nut Filling Options
(Choose Any 2)
============================

CATNIP
(unmarked)
Home grown, freshly dried whole catnip leaves and flowers are always a treat for catnip lovers. Catnip is the classic cat-attracting fragrance but it also mixes well with other scents.

HONEYSUCKLE
(white star stitch)
Freshly shaved honeysuckle wood contains actinidine, which is similar to the active ingredient in catnip. Some cats who do not respond to catnip will respond to honeysuckle, and it makes a potent combo when added to Catnip or Silvervine.

SILVERVINE
(green star stitch)
Also known as Matatabi or Japanese Catnip, Silvervine is attractive to approximately 80% of cats, even those who don't go nuts for catnip! Mix it up with honeysuckle or catnip for a more unusual "scent-sation".

VALERIAN
(brown star stitch)
Valerian root pieces reek with a "stinky foot" smell that some cats are crazy about. Too much can be overwhelming, but adding it to a mixed nut will make any other scent more piquant.

MAGIC MIX
(green circle of stitches)
Magic Mix is a potent blend of Catnip, Honeysuckle, Silvervine and Valerian. It's a veritable symphony of scents! Pair it with your cat's favorite herb for a more purr-sonalized magical experience.

ORGANIC COTTON
(white circle of stitches)
Unscented organic cotton fluff allows other scents to stand out while making your nut even more bouncy!

ALPACA
(brown circle of stitches)
Fluffy fiber from alpacas is appreciated by many cats for its herbivore-y scent. It makes a soft and squishy eco-friendly filling that helps your nut keep its shape.

============================


Each Mixed Nut peanut is approximately 2.5 inches long and 1 inch wide, which is a bit large for a peanut but perfect for a cat toy. They are crocheted using Foxfibre organic cotton yarn. This amazing eco-friendly yarn is spun from cotton varieties that naturally produce colored fibers. No dyes are needed to create the natural peanutty color or for the colored identification stitches.

Catnip Confections Mixed Nut Peanuts are sold individually and every peanut is stuffed just before it ships to maximize its cat-attracting power.

Orders for 1 or 2 nuts will arrive with the nuts packaged individually in single-size paper bags for your cat to rip open and enjoy.

If 3 or more nuts are ordered, all the nuts will be packaged together in one larger bag instead of being individually wrapped.

If you are ordering more than two Mixed Nuts and would prefer to have them packaged individually, please make a note in the order comments box to request separate bags when checking out.
Returns & Exchanges
I gladly accept returns, exchanges, and cancellations
Just contact me within: 14 days of delivery
Ship items back to me within: 30 days of delivery
Custom or personalized orders
Questions about your order?
Please contact me if you have any problems with your order.
Privacy
Although cats think nothing of bathing in public, many humans are very concerned about privacy. Please rest assured that I do not sell your information or use it for marketing purposes. I use your personal information only for filling your order and shipping it to your address, answering your questions, or to comply with legal requirements.

This general promise unfortunately does not cover all the specific points required to be disclosed by law, so the following is my detailed Privacy Policy:

This Privacy Policy describes how and when I collect, use, and share information when you purchase an item from me, contact me, or otherwise use my services through Etsy.com or its related sites and services, including CatnipConfections.com (which is hosted on Pattern by Etsy).

This Privacy Policy does not apply to the practices of third parties that I do not own or control, including Etsy or any third party services you access through Etsy. You can reference the Etsy Privacy Policy to learn more about its privacy practices at http://www.etsy.com/legal/privacy

* Information I Collect *

To fulfill your order, you must provide me with certain information (which you authorized Etsy to provide to me), such as your name, email address, postal address and the details of the product(s) that you are ordering. You may also choose to provide me with additional personal information (if needed for a custom order, for example), if you contact me directly.

* Why I Need Your Information and How I Use It *

I rely on a number of legal bases to collect, use, and share your information, including:

- as needed to provide my services, such as when I use your information to fulfill your order, to settle disputes, or to provide customer support;
- when you have provided your affirmative consent (which you may revoke at any time), such as asking to be notified about something, or by signing up for my mailing list (although as of 2018, I do not have a mailing list);
- if necessary to comply with a legal obligation or court order or in connection with a legal claim, such as retaining information about your purchases if required by tax law; and as necessary for the purpose of my legitimate interests, if those legitimate interests are not overridden by your rights or interests, such as 1) providing and improving my services. I use your information to provide the services you requested and in my legitimate interest to improve my services; and 2) Compliance with the Etsy Seller Policy and Terms of Use. I use your information as necessary to comply with my obligations under the Etsy Seller Policy and Terms of Use.

* Information Sharing and Disclosure *

Information about my customers is important to my business. I share your personal information for very limited reasons and in limited circumstances, as follows:

- with Etsy. I share information with Etsy as necessary to provide you my services and to comply with my obligations under both the Etsy Seller Policy and Etsy Terms of Use.
- with Service Providers. I engage certain trusted third parties, such as delivery companies, to perform functions and provide services to my shop. I will share your personal information with these third parties, but only to the extent necessary to perform these services (for example, to deliver your order to your address)
- in Compliance with laws. I may collect, use, retain, and share your information if I have a good faith belief that it is reasonably necessary to: (a) respond to legal process or to government requests; (b) enforce my agreements, terms and policies; (c) prevent, investigate, and address fraud and other illegal activity, security, or technical issues; or (d) protect the rights, property, and safety of my customers, or others.

* Data Retention *

I retain your personal information only for as long as necessary to provide you with my services and as described in my Privacy Policy. However, I may also be required to retain this information to comply with legal and regulatory obligations, to resolve disputes, and to enforce agreements.

* International Customers *

If you access this site from countries outside the United States, please note that your personal information will be transferred to the United States, where I am located. By entering your personal information, you consent to having it transmitted to and processed in the United States.

* Your Privacy Rights *

You may have the right to receive a copy of the personal information I hold about you. You may also have rights to change, restrict my use of, or delete your personal information. Outside of exceptional circumstances (like where I am required to store data for legal reasons) I will generally change or delete your personal information upon request.

* Privacy Policy Updates *

I may from time to time revise this Privacy Policy. If I do, I will post the changes on this page and indicate the new Privacy Policy's effective date so that you are always aware of what information I collect and how I use it. Unless I receive your express consent, I will only use and disclose your information in a manner consistent with the version of the Privacy Policy that was in effect at the time I collected the information.

I welcome your questions and comments about privacy. Feel free to contact me using the Contact link found either at the top or bottom of any page.

Privacy Policy Effective Date: May 25, 2018
This magic mix is seriously MAGIC! My lazy senior AND my manic teen cat both lose their minds over these toys, even months later. They're super well made and they last forever. Highly recommend!!!
10/10 as always! Kitties get so excited for these and they stay fun forever!
My cats went CRAZY for this magic mix filled peanut. They love it!
My cat was recovering from a cold and I wanted to get something special for her to make her recovery more pleasant. When the package arrived she was immediately interested; I gave her the little catnip-scented card that came with it, and she was rolling around and rubbing on it instantaneously. Once her antibiotics did their work and she was back to her normal self, I gave her the peanut toy, and she's been snuggling with it and licking it (lol) ever since. The quality is top-notch and you can actually smell the "magic mix" inside it! She was also thrilled to lay on the other enclosed papers and packing materials. Thank you for helping me brighten my kitty's days. I'll be back for sure.